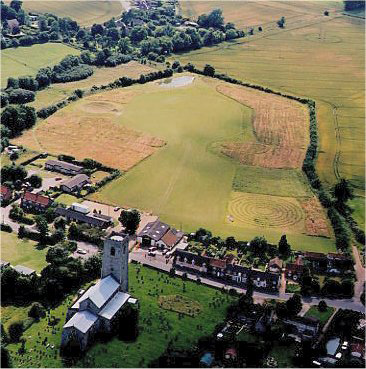 Preparations for Apple Day 2000
By late 1990's Carbrooke had an ancient Church, thriving school and village hall for villagers to meet inside, but no public open space.
For some years the idea of a public playing field had been discussed, the11 acre field behind the village hall being the ideal spot – spacious, central, and with good access. Knowing that keeping a large public space maintained would be a difficult job, the land owner was not keen to sell it unless a suitable trust could be set up to manage such a project and permanently maintain the area.
As the millenium drew to a close, a nationwide project to provide the nation with open public spaces, offering assistance and funding was underway. 'The Millenium Green Scheme'.
Lesley Kant and Steve Cuneen, village residents, used their business and gardening knowledge along with Jan Godfrey and Geoff Nobes from Norfolk Wildlife Trust, to form a committee and approach Mr Buscall of Carbrooke Hall, to purchase the land, draw up plans and form a trust to manage it.
The Charity was set up on 9th October 1997, and work began to-
"PROVIDE AND MAINTAIN AN OPEN SPACE TO BE KNOWN AS CARBROOKE MILLENNIUM GREEN FOR THE BENEFIT OF THE INHABITANTS AND TO BE USED FOREVER FOR RECREATION, PLAY OR OTHER LEISURE-TIME OCCUPATIONS, A MEETING AREA OR PLACE OF COMMUNITY EVENTS".
The field was levelled and prepared, with the villages turning out to do 'stone picking' in May 1998, and much fundraising.
Designs were drawn up incorporating, a large flat grassy area, suitable for general play, gatherings, fetes, football matches and sports days. A pre-school play area, play area for older children, maze, apple orchard, amphitheatre, wildlife meadow, pond, and dog walking areas.
The whole area was planted using native plants, a sculptor assisted by the school children, created the stone toadstool from the stones picked out of the ground, and the 'Carbrooke Fox' wooden sculpture linking the two areas – utility and wildlife.
The Green was officially opened with an Apple Day in September 2000 by TV gardener Bob Flowerdew.
Carbrookew Millenium Green is now fully established, and as with any planted area will continue to grow and change as years go by. It has become a very popular focal point not only for Carbrooke residents, but also in attracting people from further afield, allowing our children an enormous space to play and enjoy the outdoors, as well as folk who would rather just sit and watch the world go by on one of the benches.
Millenium Green establishment committee c1999
'The Carbrooke Fox'
Planting the maze c1997
Carbrooke Fete 2013
Page last Updated 22.03.2022