Carbrooke, a small agricultural village in Norfolk, has a surprising and fascinating history, with influences through the centuries from around the world.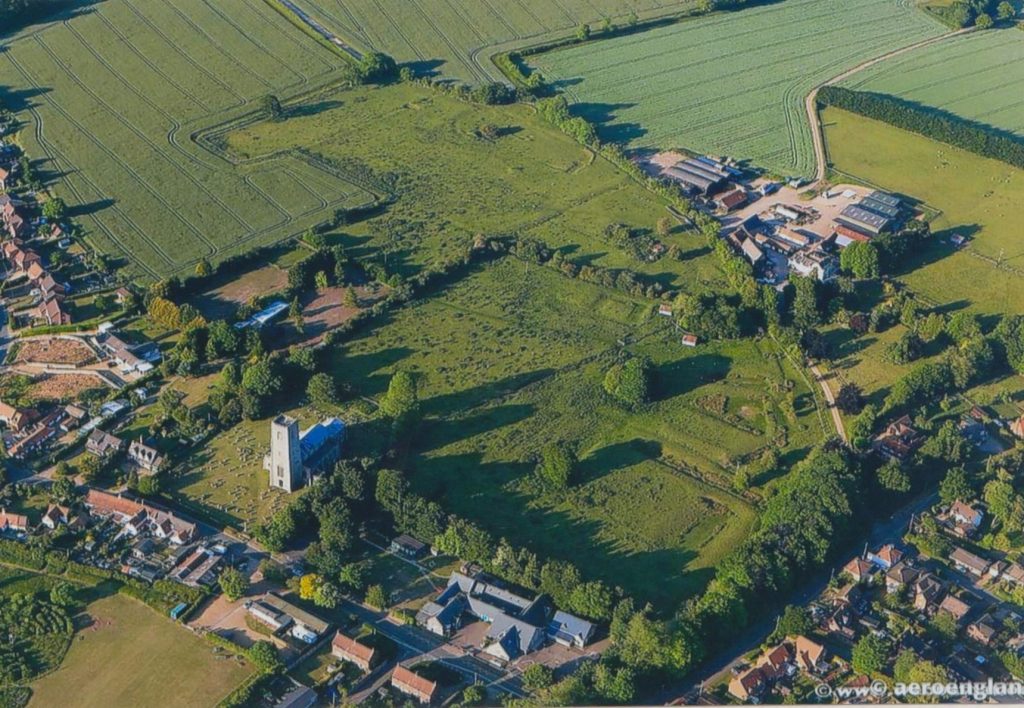 Carbrooke is located in the Wayland Hundred of Norfolk. Pre-Roman, Roman and Saxon artefacts have been found in the area. The Domesday Survey of 1085, established land ownership following the Norman invasion of 1066, and mentions Carbrooke, which is entered as Cherebroc.
The Church of St Peter and Paul
Follow this link for greater detail, of historical village interest relating to the Church.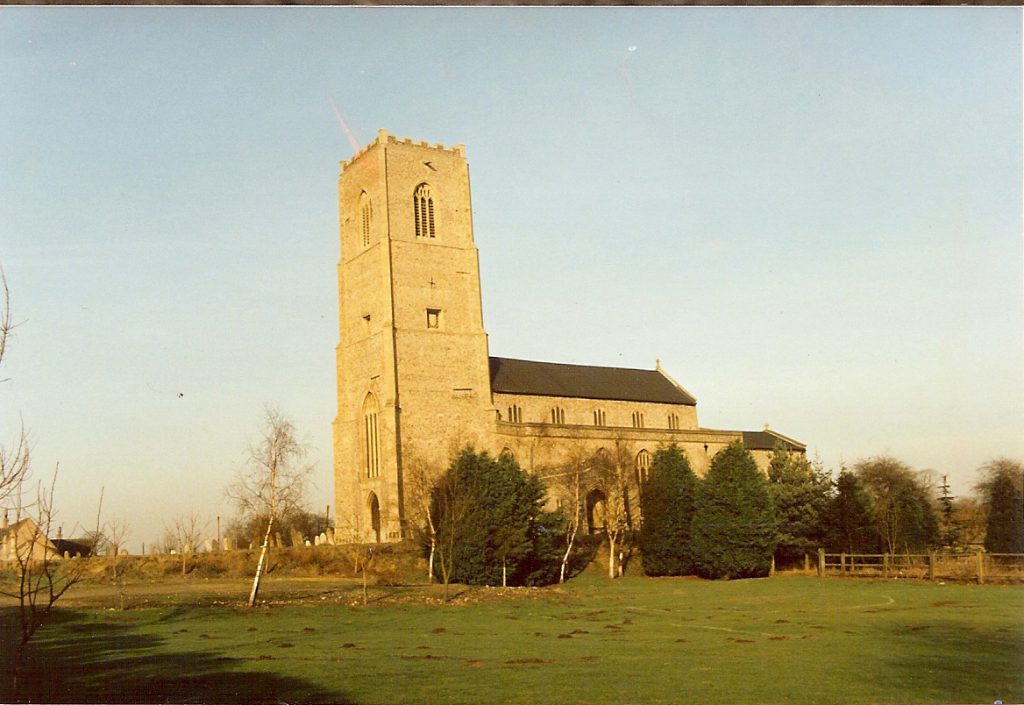 At the centre of the village and set on a high point, Carbrooke Church, was founded in 1193 by Maud Countess of Clare, it was built over an earlier Church. Maud gifted it to the Knights Hospitallers, where a 'Hospital' was established, and which became 'Carbrooke Commanderie' the main organisation centre in Norfolk for the Knights of St John. This represented the place Carbrooke had, in the Medieval world of Knights and the Crusades.
Looking through the registers, it appears some of the vicars may have had trouble with the local dialect, for example, in early 1800's John Farrow also entered as John Farrer, Robert Quadling/Quadlin, John Mowles/Moules, as well as other obvious spelling mistakes.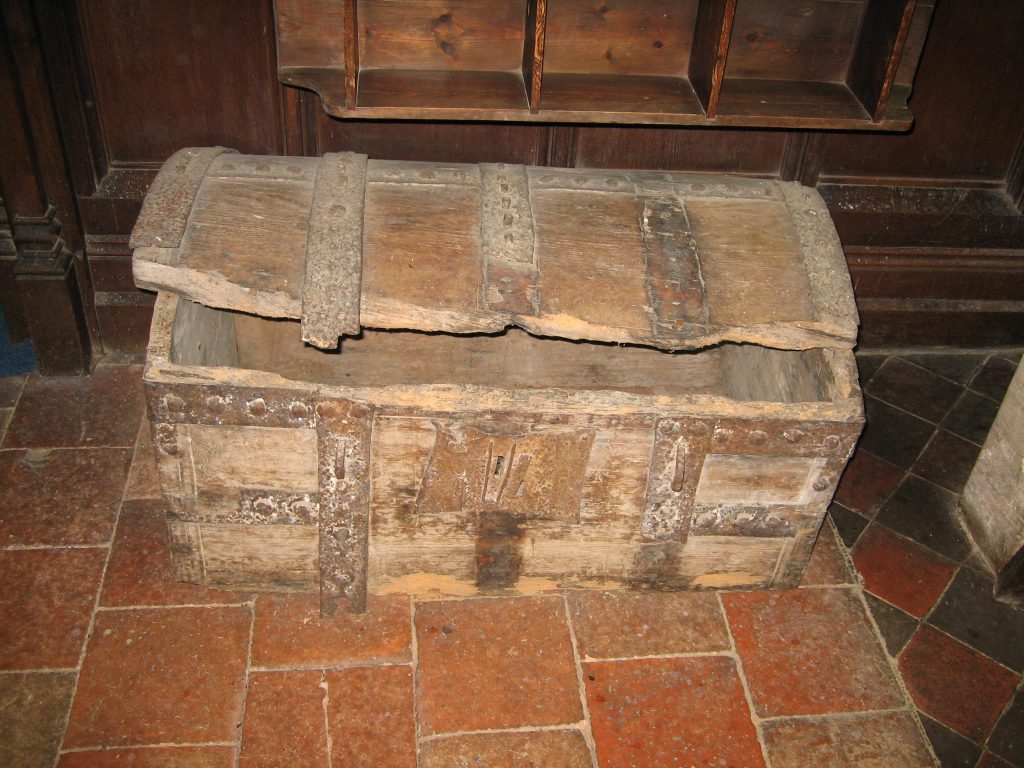 Carbrooke Church registers are now deposited in Norfolk Records Office (80 items)and can be studied by the public. Previously they were kept in the Parish Chest in the Church, which is still in the church, but not in the best of conditions! Those in use remain in the church.
As the 18th century drew to a close, the country faced war with France and the government had little idea of the size of the British population, should it need to be defended, fed, or an army raised. The Industrial revolution had begun, and people were moving from the countryside to the towns and cities, to try and improve their standard of living. The French revolution had also recently taken place, the ruling classes were fearful of revolution breaking out, and wanted to know the location of dense populations.
Between 1816 and 1819 John Wynnell (a soldier) and his wife Elizabeth baptised two children in Carbrooke church. He doesn't appear to be local, and moved on after 1819.
In 1801 a national Census was commissioned, as a head count. Then again in 1811, 1821 & 1831, and some local census can still be found, the first complete census was carried out on 6th June 1841, and every 10 years since, (except 1941, due to the war). An enumerator had to visit every home, and list the inhabitants, as many were illiterate, and unable to fill in forms for themselves. As time has gone on and the population better educated, we complete the forms ourselves, and the information required becoming more detailed.
Studying the census' is very interesting, it is possible to follow a family as it grows and then separates to produce further households within a community. The birth, marriage and burial records can be studied to further enhance the details. Old maps give us further clues to the history of Carbrooke, some road names have changed, others remained the same.
In 1837 the government introduced civil registration, a legal requirement to inform the local registrar of any birth, marriage or death. Carbrooke is included in the Wayland Registration district.
A School was established in Carbrooke in 1836 by landowner Richard Dewing, the first mistress being Miss Young. In 1846 a purpose built school was constructed, becoming a Church School for all local children.From 1870 following educational reform, all children were required to attend school by law, which took them away from agricultural work.
There were two non-Conformist chapels – Methodist and Unitarian, which appealed to agricultural as well as industrial communities. The first Methodist Chapel at '1 and 2 Chapel Cottages' on Broadmoor Road was built in 1860 as a Primitive Methodist Chapel, before moving to a new building in Mill Lane 1870. It closed in 1988 and is now a private house. The Unitarian Chapel in Broadmoor Road was founded in 1833, later became a private dwelling, and the building demolished c1980.
Carbrooke Population:
(1821 = 771) (1831 = 789) (1841 = 807) (1851 =796) (1881 = 612) (1894 = 534) (1901 = 573) (2001 =1176) (2011 = 2073)
Francis Whites History, Gazeteer and Directory of Norfolk, describes Carbrooke in 1854. Containing 178 houses and 796 inhabitants. The principal landowners were Sir W.R. Clayton, Richard Dewing Esq. and Mr John Wace. Lady of the Manor (of Carbrooke) was Mrs Mary Grigson of Saham Toney. Vicar Rev William Wells. A school was built in 1836 by Richard Dewing who also chiefly supported it.
Local Road and Place Names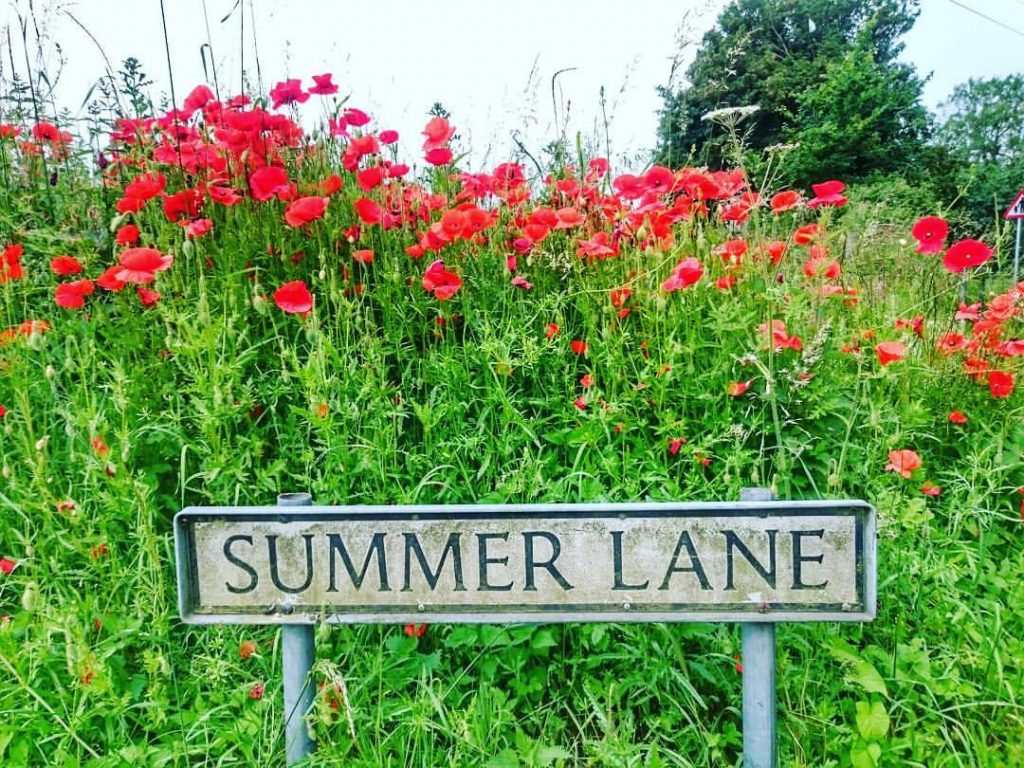 Broadmoor Road, Chapel Lane up to (now Mill Lane) which extended across Broadmoor to Wood Farm, Fen Road (now Shipdham Road), Tun Moor, Manor House Lane (now Shidham Road between Church Street and Manor Farm approx.), Church Street, Bridge Street, Drury Lane, Caudle Green (now Caudle Springs), Summer Lane – a corruption of South Moor Lane, Caston Road, Ovington Road/Boundary, Meadow Lane, Willow Corner, Cuckoo Lane, Muttons Corner, Kippen Ash.
The Norwich Road (B1108) was called the Turn Pike Road, as it was a Toll Road (with Toll Cottage) at the Attleborough/Norwich Road junction,still referred to by people in the village as Muttons Corner after the family who were living in the Toll Cottage in 1901.
Carbrooke has a typical, English and well mixed housing stock. The wide variety of buildings represent the people of Carbrooke who have followed the customs of the times in building their houses, we have plenty of farm houses, and farm cottages representing the chief occupation of agriculture. The oldest building in the village may be Wood Farm, possibly the Manor/Farm house which was linked to the Commanderie.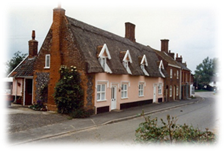 The Thatched Cottage opposite the Church, is the only thatched house remaining in Carbrooke. Parish records record John Mowles and Thomas Leveridge as thatchers during the 1820's and 1830's.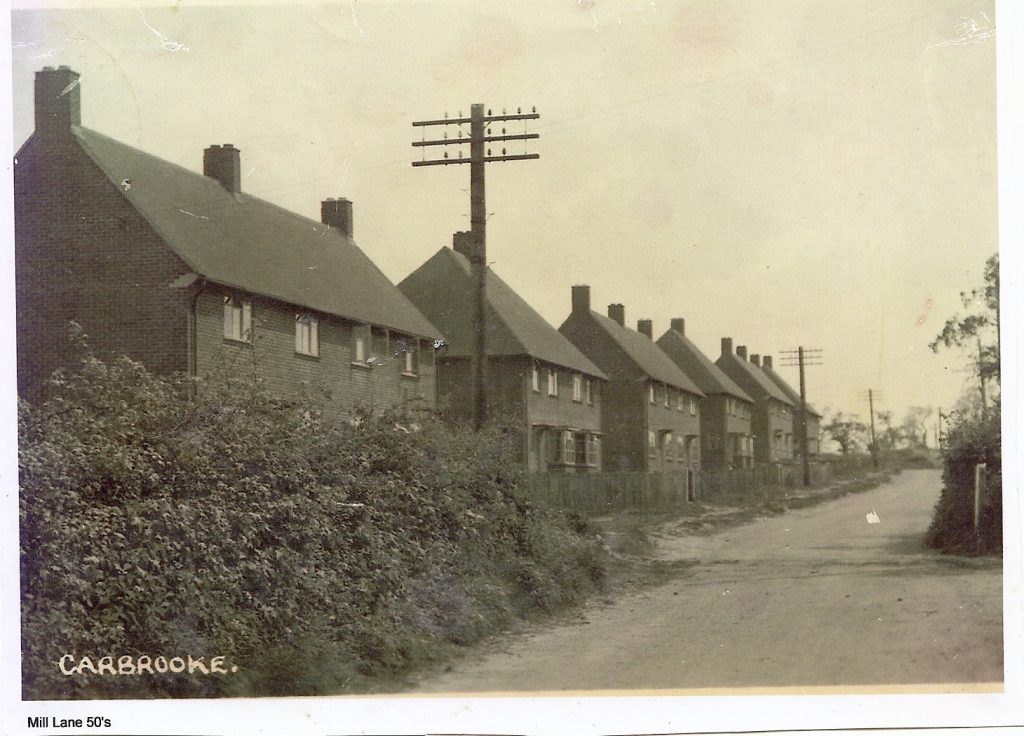 Brick and stone built cottages, social housing, retirement bungalows, or individual houses built over the years typically reflects the building styles in the country at the time.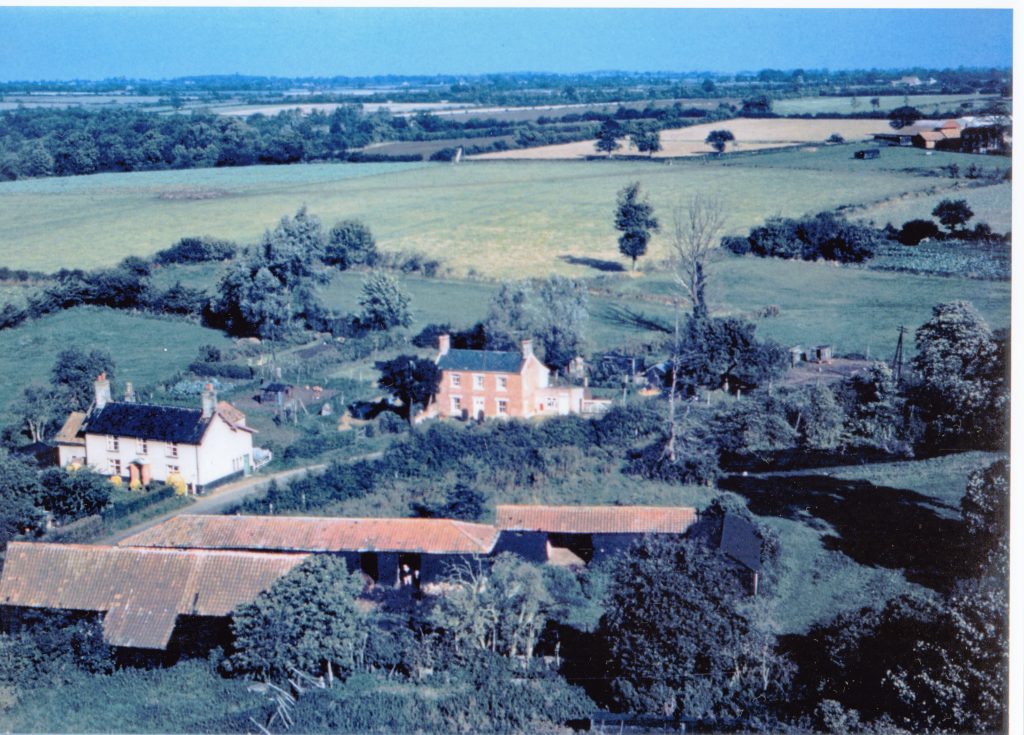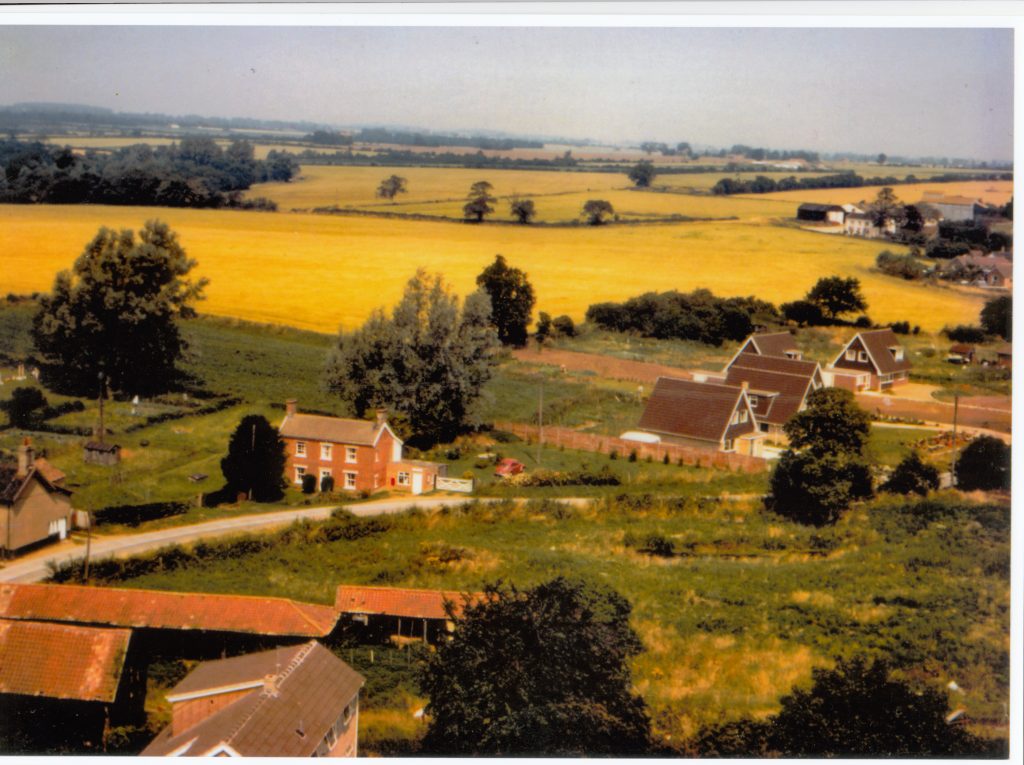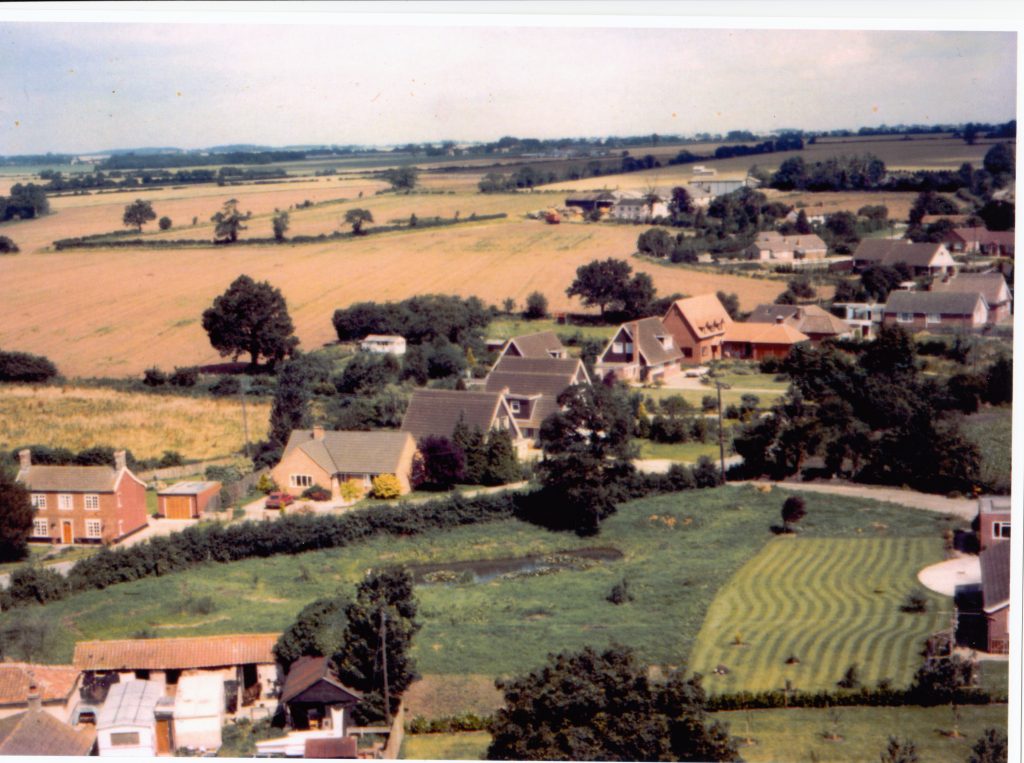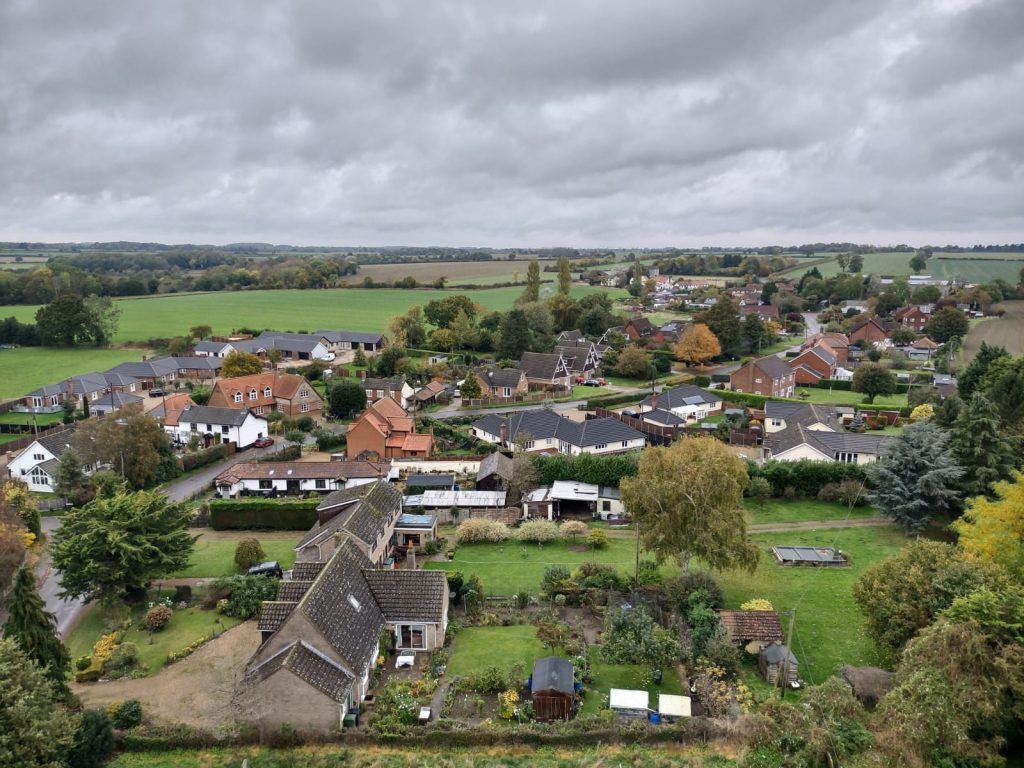 The changing view over Shipdham Lane
Over the years houses have been built and perhaps later demolished, in some places being replaced by a new building. For example the farm cottages opposite Oak Farm on Shipdham Road replace 2 older cottages that were demolished in early 2000's. Today we expect to live in larger houses with more personal space, and so extensions have been added, or cottages have been combined to create a larger house, this may be revealed by the number of chimneys a row of cottages have, for example Pendle Cottage/West Cottage have 4 chimneys between them, with blocked up doorways just visible, and at one time were probably 4 cottages. Families in the past were often larger, it is hard to imagine, how families of 6 or 8 people would fit in a two roomed cottage, but farm labourers were extremely poor in country areas, especially during the agricultural depression of the 1880's.
Agriculture
The main occupation in Carbrooke was Agriculture, with the majority of inhabitants, agricultural labourers. Local surnames include Page, Platfoot, Ainger, and Newson. There were also farmers, for example Minns, Alpe, and Wace, and many of the smaller farmers were able to combine this with other occupations.
William Barker (a labourer) and wife Sarah, obviously had high hopes for their son when they baptised him in 1826, – Wealthy Barker!
Agriculture during the 1870's and 1880's in Britain was in decline, and so was the population of Carbrooke, with the introduction of mechanisation, and the import of cheap crops from America, and increasingly meat from Australia and Argentina. Many labourers left the countryside, looking for better conditions in towns, cities and even abroad.
Trade & Industry Carbrooke was a self-sufficient village, boasting Pubs, a Post Office, with occupations recorded, Wheelwrights (George Catton and Joshua Buck 1820's and 30's), Iron founder, Constable, Shopkeeper, Butcher (Robert Dennis 1825), Baker, Blacksmith – where the Carbrooke Garage stands next to the Village Hall (Thomas Hipkins 1828), Shoemaker Edward Sayer 1820/30s, Thatcher, Tailor and Beer dealer – an unusual combination – John Harvey 1832, Bricklayer, Plasterer, Carpenter – Robert Murrell 1820/30s, Miller – John Land 1825, John Rumble 1835 and even a Mariner – William Morgan in 1836! Another unusual combination in 1901 was Publican and crab dealer! In the early 1900's there was even a hairdresser and fried fish shop.
Gravel has been extracted from the gravel pits between Summer Lane and Mill Lane for many years originally by The Minns family a Carbrooke farming family.
The Crown public house: Now Crown House – Closed in 1969. It had a Full License. (off Church Street/ -Meadow Lane – now barely surviving – used to lead to the bridge on Ovington Road)
Jolly Farmers: A beerhouse -Address as Manor House Lane in 1841, by Manor House, Church Street in 1861, Bridge Road 1871 and Broadmere Road 1881. (now North Farm Broadmoor Road). Used for committee meetings in early 1900's. Closed about 1912.
The White Hart (Beerhouse) Now White Hart Cottage, opposite the Church. Closed about 1930.
The White Horse /Flying Fish Norwich Road, originally a beerhouse until it was rebuilt in 1938 and granted a full license, to cater for the coming of the Aerodrome in the late 1930s.
Three Horse Shoes: As advertised 1773 – Adjacent to Turnpike between Watton & Hingham, with Barn, Stables and Land. (Possibly at Scoulton).
Carbrooke Mills There have been a number of Mills in Carbrooke over the years, a necessity in keeping the population fed and making use of the simple power supplies – wind and water.
Carbrooke Foundry We also have an Industrial base in the form of East Coast Castings, an Iron Foundry near the Flying Fish. The foundry was established by Jonathon Hunton in 1786 originally to produce farm implements.
The Aerodrome Work began, to build the Aerodrome in 1937 as the danger of a war in Europe loomed. The Aerodrome is partly within Carbrooke Parish boundary, and it had a major effect on the area during WW2 and after. It introduced Carbrooke residents, to the Aeroplane, and involved many local folk in war work, bringing the war and the wider world in the form of American serviceman close to home. After the war, RAF Watton became a Radar base, keeping up with the modern world. There are several Baptism entries in the Registers at this time of children whose parents worked on the base. The Aerodrome provided classic RAF housing for its staff, now converted to private housing, which have been interspersed by new houses. Following its closure, the land has been sold for development, and much of the farmland has been sold back and reverted to agricultural land. Now, with town houses and flats, within the parish, Carbrooke has housing typical of the 2000's, a residential home for the elderly and supermarket.
Carbrooke Village Coronation Hall Founded in 1956 to celebrate the accession and coronation of Queen Elizabeth II, at a time of austerity, adding a social centre for the villagers to meet and take part in village activities.
Sport As with many villages during 18/1900's cricket was an important summer pastime for the men of the village, with the womenfolk helping behind the scenes when the occasions became social. Cricket was played on a field behind Wood Farm, Broadmoor Road. Carbrooke had a cricket team for many years, but this was sadly folded up around 1978. There was also a tennis club, bike trials club and football club. Breckland Cycling club has been based for many years in Carbrooke.
Changing Times
During the latter part of the 20th and early 21st century, Carbrooke has changed almost beyond recognition. Throughout its history, Carbrooke has attracted those from outside its boundaries, whether it is invading armies, Norman aristocracy, knights and monks, landowners, or servicemen. Perhaps it is a refuge (Vietnamese boat people) or for others a place to express a different outlook on life (New Age Travellers), more recently we have welcomed those from other nations and faiths, as they look to make a new life. Most recently, plans to create an ecologically sustainable community within the parish are being considered.
The School was faced with almost certain closure around 1986 with a register of just 40, but as the ex RAF housing stock was sold during 1980's and 1990's on Ash Tree Park, Beech Tree Park, and Maid Marian Way, and later housing development on Norwich Road Estates, young families were able to remain in, and move into the area.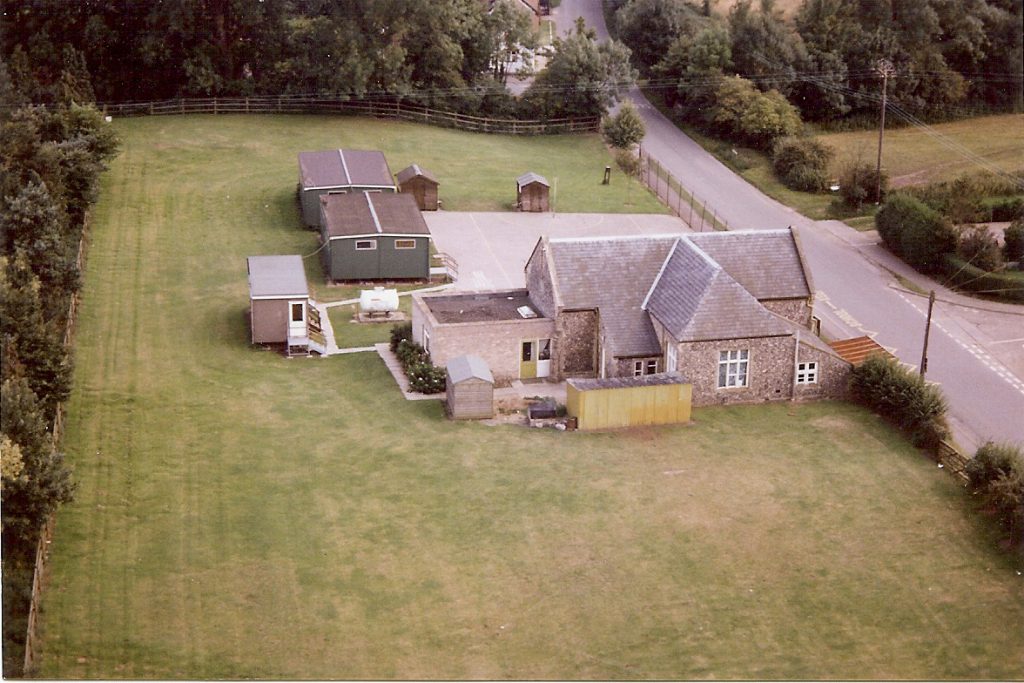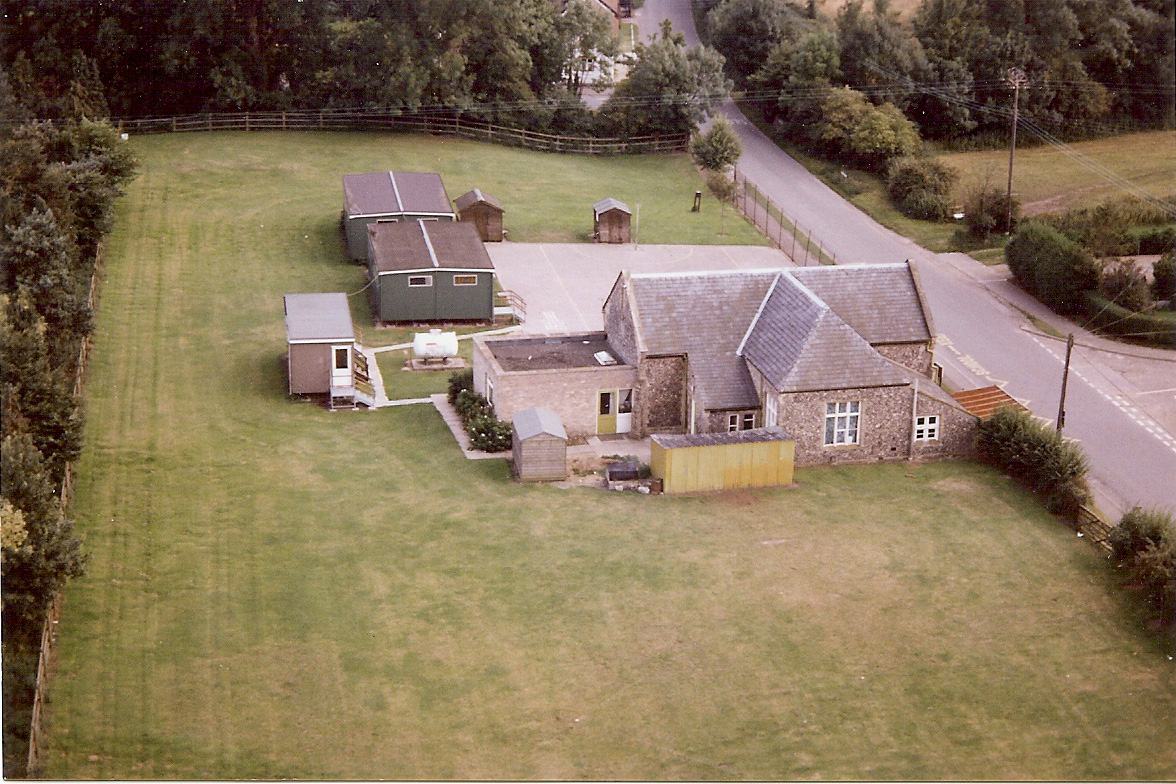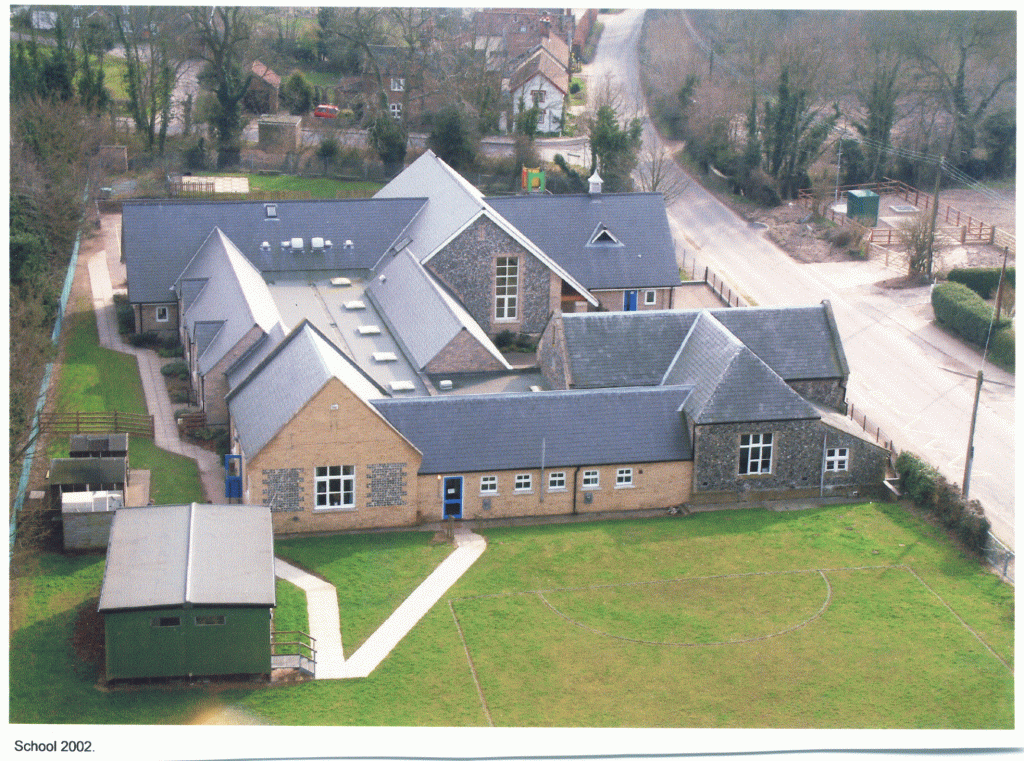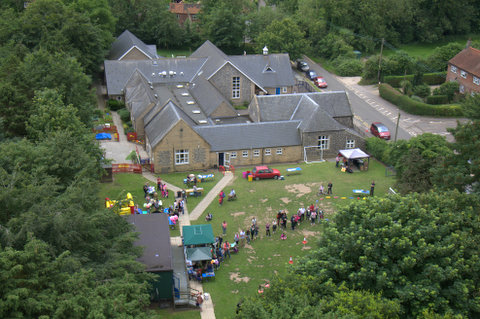 Carbrooke Playgroup goes from strength to strength, beginning in the 1970's as a parent lead group, now has its own premises and operates as a nursery as part of Carbrooke school.
The Village Millenium Green Adds an extra dimension, for children to play or for nature lovers, attracting visitors from far and wide.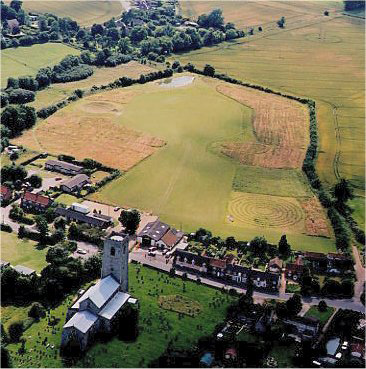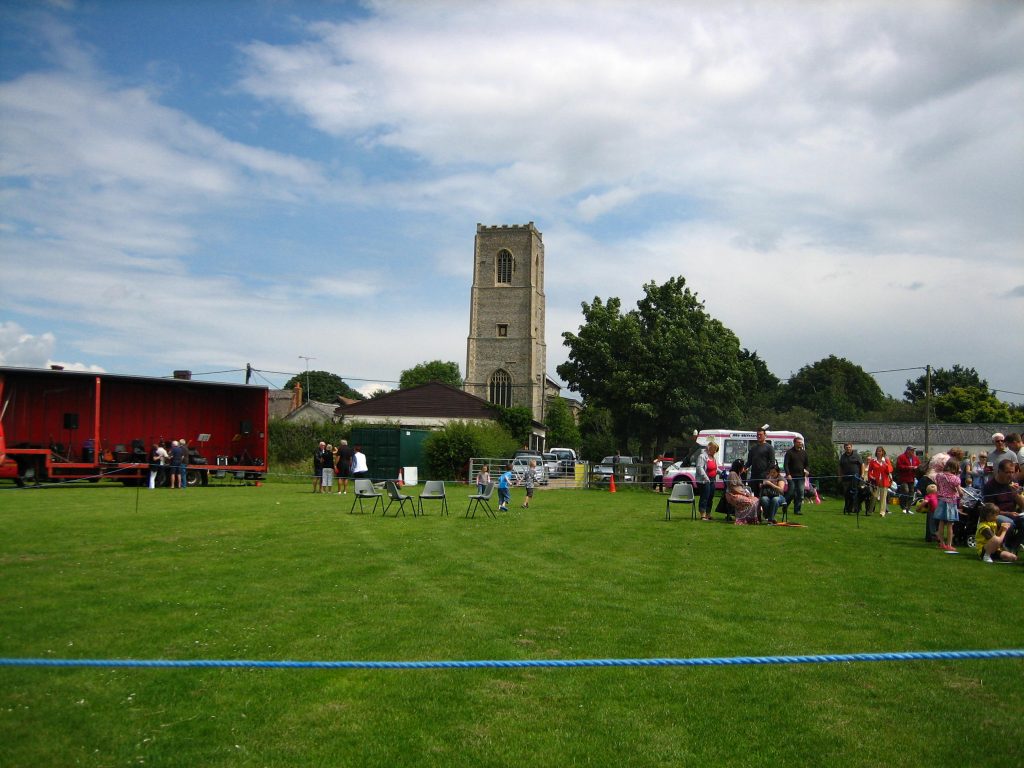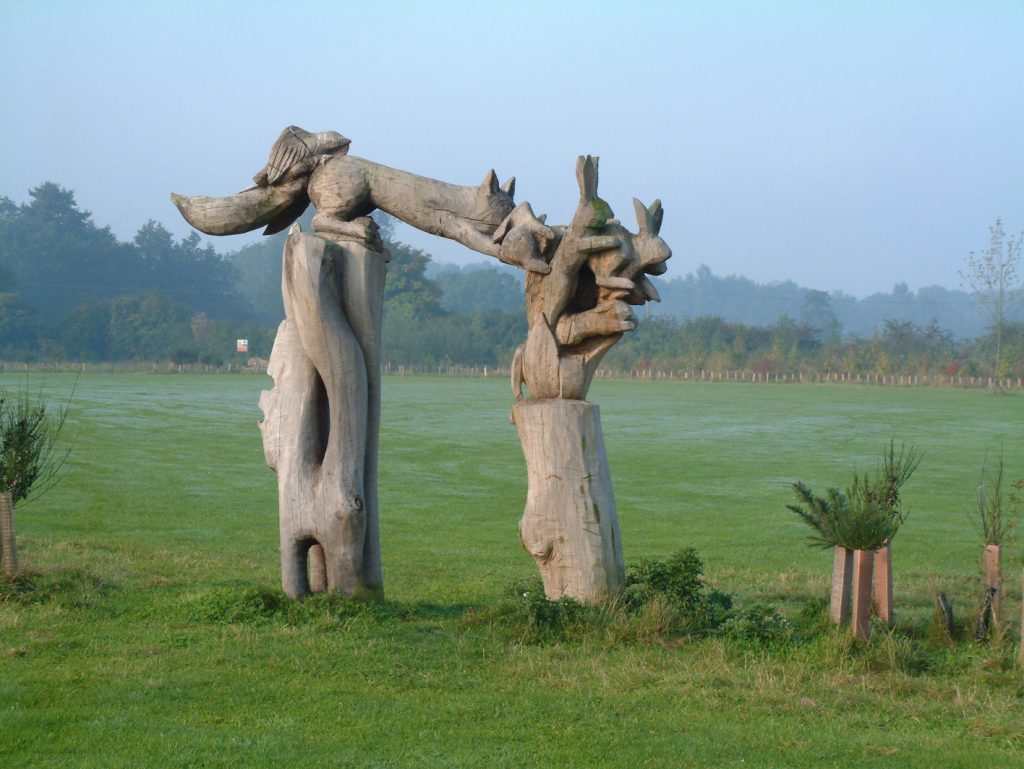 Looking to The Future
Nowadays people are returning to villages in search of peace, quiet and a more relaxed way of life. Carbrooke village, again has many properties housing young and teenage families, has a healthy mix of all ages, and is a sought after village. Although there are few jobs within the community, many people work from home, others work away from the village, travelling to Watton, Dereham or Norwich, and perhaps even further afield.
There is no village shop or pub, in the village centre, although the Village Social Club has a bar. Carbrooke has managed to avoid the downfall of many small villages, as we have very few holiday cottages, and so the majority of the population live and take part in the community.
Page last Updated 06.11.20