and its Effects on Carbrooke
The Wayland Heritage Group produced this book as the main output of their research on the impact of WWI on the Wayland area. It is possible to purchase them at £25.00 hardback and £12 paperback.- special prices. If you would like a copy contact 01953 880202.
WHAT IMPACT DID WW1 HAVE IN CARBROOKE?
We presume it was major, such a horrific time in our history, drawing in men and women from every part of the country, and many of them losing their lives.
Society was already in a state of change, at the time of the war, particularly the rural areas which were in the midst of agricultural depression, many had left the countryside as they hoped for a better standard of living in the industrial towns, this could account for a number of Carbrooke men, who fought or were killed, and mentioned in our records, but who were not actually living in Carbrooke at the time, thus making research more difficult.
CARBROOKE
Carbrooke, in the first decade of the 20th century, was pretty much like any other rural agricultural community in Southern England – still suffering from the Agricultural depression of the latter part of the 19th century.
In 1811 the Carbrooke population was 615, reaching a high of 807 in 1841 then declining to 545 in 1911, and a low of 466 by 1931.
Carbrooke is positioned on the main Nniorwich to Watton Road which also leads on to Thetford, and eventually to London, or to Swaffham and North. We have good through roads running through the centre of the village in all directions North, South, East and West. We have 3 large farms, bringing in new landlords and employers over the years with their staff and stories of the outside world. As placed it was reasonably easy for our residents to get in and out of the village and on to other parts of Norfolk or Britain, by walking, riding and later train travel.
This list includes the men from Carbrooke who served during WW1. The names have been taken from Carbrooke War Memorial, a list of returned, and those mentioned in the Thetford & Watton Newspaper or found on Ancestry.com.
(CWM – Carbrooke War Memorial) (C – Church, Returned List) (T&W – Thetford & Watton Newspapper)
| | | | | | | |
| --- | --- | --- | --- | --- | --- | --- |
| MEMORIAL | NAME | INITIALS/NAME | REGT. NO. | REGT. | MARRIAGE | NOTES |
| CWM/C | ABBEY | HERBERT G | Private 29639 | NORFOLK REGT | KIA | Parents George & Mary Ann (Taylor) |
| Ancestry | ADCOCK | EDGAR JOHN | 15364 | 19TH HUSSARS | | Parents William & Ellen |
| C | AINGER | WG (William George?) | | ROYAL MARINE LIGHT INFANTRY | | Parents George& Sophia Coggle (Wymondham) |
| CWM | AINGER | WILLIAM G | Private 45891 566 | LEICESTERSHIRE REGT.ASC | KIA1916 Eva May Bowman | Died of wounds 1919 aged 31. Father William. |
| CWM/C | AINGER | DENNIS WALTER | | CANADIANS | KIA | Parents George& Sophia |
| C | AINGER | PERCY SIDNEY | | NORFOLK YEOMANRY | | Parents George& Sophia |
| C | AUKER | C(WILLIAM CHRISTOPHER) | | ARMY SERVICE CORPS | 1908 Mabel HarrodNo children | Died 1923 aged 40 yrs |
| CWM/C | BACK | EFM(ERNEST FERGUS MELBOURNE) | Private 16855 | NORFOLK REGT. | KIA | b.1892Also known as Ernest SussamsParents James & Sophia (Back) |
| C | BARRETT | A | | ROYAL FUSILIERS | | |
| CWM/CScoulton WM | BEETS | E (FJ)Frederick John | Private 17613 | NORFOLK REGT. | KIA | Parents George & Phyllis (Ainger) |
| C | BRUNTON | F (Frederick William) | | NORFOLK REGT. | | b.1892Parents John & SarahDIED 1925? |
| CWM/C | BULLEN | WJ (Wilfred John) | Private 320430 | NORFOLK YEOMANRY | KIA | b.c1896Parents Mary Ann Webster/ Bullen & John Bird |
| C | BURCHAM | H (Richard Harry?) | | MGC | c1910? Hetty3 children pre1911 | |
| C | CATOR | E | | NORFOLK REGT. | | Ernest Stubbings (adopted son of James & Elizabeth Cator?) |
| C | CATOR | B (Bertie Walter?) | | MGC | | George& Alice |
| C | CATOR | T (Thomas) | | RIFLE BRIGADE | | George& Alice |
| C | COLEMAN | H (Harry?) | | NORFOLK REGT. | | |
| C | DIXON | A (Albert) | | NORFOLK REGT. | | Parents Daniel & Emily |
| C | DIXON | F(Frederick William) | | AVC | 1922 Margaret Johnson2 children | Parents Daniel & Emily |
| C | DONOVAN | A (Alexander) | | RDC | | Carbrooke Hall |
| C | DONOVAN | AM(Alexander Maitland) | | RN | | b.1892Parents at Carbrooke Hall 1911Torpedo Boat No. 21 1914 |
| C | DONOVAN | NWE(Esme) | | RN | | b. 1895Parents at Carbrooke Hall 1911HMS Gibraltar 1914 |
| C | FORD | W (William Henry?) | | RDC | | B.1875?Parents William & Elizabeth (Johnson) |
| T&W | GODFREY | Rev'd AR | | | | Vicar Of Carbrooke 1912(?) – 1922 |
| C | GOLDSMITH | W(Walter?) | | ASC | | |
| C | GUNSON | T(Thomas Edwin) | 46305 | Machine Gun Corps | | c1894 Parents William & Martha Ann (Oaklands Farm) |
| C/T&W | GUNSON | H (Harry)(WH)William Henry | 647 Private/Lieutenant | EAST AFRICAN MR | | c1895 Parents William & Martha Ann (Oaklands Farm) |
| C | GUNSON | E (Ernest) | | NORFOLK YEOMANRY | | 1899 Parents William & Martha Ann (Oaklands Farm) |
| CWM/C | HARROD | G (William George) | Private 26230 | NORFOLK REGT. | KIA | Parents John & Elizabeth |
| C | HAWES | E (Arthur Ernest?) | | BORDER REGT. | | Parents John & Happuch Goward |
| C | HAWES | G (George) | | ROYAL FUSILIERS | | Parents John & Happuch Goward |
| C | HAWES | C (John Charles?) | | RGA | | Parents John & Happuch Goward |
| CWMC | GREAVESGRAVES | ARTHUR DANIELD | Private F/2443 | MIDDLESEX REGT. | | Parents Daniel & Charlotte (Rudd) |
| WM/C | GREEN | S(SIDNEY) | Private 51197 | BEDFORDSHIRE REGT4th Battalion | | |
| C | HAYLOCK | F(Frederick) | | NORFOLK YEOMANRY | | Parents: James & Hannah |
| C | JOHNSON | H(Harold) | | NORFOLK REGT. | | Parents James & Agnes (Newton) |
| C | JOHNSON | S (Sidney) | | ASC | | Parents James & Agnes (Newton) |
| C | JOHNSON | R (Robert?) | | NORFOLK REGT. | | Parents Alfred & Emmeline |
| CWM/C | JOHNSON | VE (Victor Edward) | Private 18609 | NORFOLK REGT. | | Parents Edward & Bessie Louisa (Newson) |
| C | LAKE | TW (JW –John William?)Thomas | | SURREY YEOMANRY | | b.Watton 1899 Parents William & Ellen orb. Watton 1886 Parents John & Margaret |
| CWM/C | LEVERIDGE | W(Walter) | L/Sgt 7226 | NORFOLK REGT. | | Parents Samuel & Charlotte (Pease) |
| CWM/C | LEVERIDGE | B (Bertie) | L/Cpl 43259 | NORFOLK REGT. | | Parents Samuel & Charlotte (Pease) |
| C | LEVERIDGE | B (Basil) | | MIDDLESEX REGT. | | Parents Samuel & Charlotte (Pease) |
| C | LEVERIDGE | H (Henry) | | NORFOLK REGT. | | Parents John & Sarah(Wells) |
| C | LEVERIDGE | C (Charlie?) | | NORFOLK REGT. | | (NR)Parents John & Sarah (Wells) |
| C | LEVERIDGE | A (Alban)? | | RN | | Parents John & Sarah (Wells) |
| C | LEVERIDGE | C (Cecil) | | EAFA | | Parents John & Sarah (Wells) |
| C | MACROW | F(Frederick) | | MACHINE GUN CORPS | | c.1894 to John and Maria (Long) |
| C | MATLASS | F (Frederick?) | | NORFOLK REGT. | | William & Margaret or Harriet |
| C | MATLASS | H (Herbert?) | | NORFOLK REGT. | | William & Margaret or Harriet |
| C | MINNS | WH (Willie) | Private | NORTHANTS REGT. | | Son of Herbert & Gertrude Edith Murrell |
| C | MURRELL | H | Colour Sergeant Major | KINGS AFRICAN RIFLES | | Harry (Senior) Not Sure |
| CWM/C | MURRELL | A (Arthur Cecil) | | RW SURREY REGT. | AC | Parents Harry and Mary Ellen |
| CWM/C | MURRELL | G(Gilbert William) | | NORFOLK REGT. | | Parents William & Clara |
| CWM/C | MURRELL | (D) Robert Dennis | Private 43289 | NORFOLK REGT | | Parents Robert & Ellen |
| C | MURRELL | H (Harry) | | RDC (RFC Royal Flying Corps)? | | Parent Colour Sgt Major Harry Murrell orRobert and Ellen Not Sure |
| C | MURRELL | A(Alan) | Private | NORFOLK REGT. | | 1895 Robert and Ellen |
| C | MUTTON | S (Samuel) | | NORFOLK REGT. | | Parents Samuel & Susannah/2nd Batt Norfolk Regt. 1911 Serving in India & Ceylon |
| C | MYHILL | G (George A) | | CANADIANS | | Parents Alfred & Martha (Richardson of Ovington) |
| C | MYHILL | R (Reginald Henley) | | CANADIANS | | Parents Alfred & Martha (Richardson of Ovington) |
| C | MYHILL | W (Willie) | | MGC | | Parents Alfred & Martha (Richardson of Ovington) |
| T&W | OFFICE | ARTHUR | | | | same as below? |
| C | ORFORD | A(Arthur Orford/Offed) | | NORFOLK REGT. | | same as above?Parents Henry & Maria Taylor |
| C | PAGE | TH(Thomas Herbert) | | COLDSTREAM GUARDS | | b 1885 (d. 1965 aged 80yrs)signed up 1903/ Father Thomas (Ovington) |
| C | PLAYLE | H | | DUBLIN FUSILIERS | | |
| C | PLAYLE | B (BASIL HARRY ) | | RFA | | 1893Parents William Thomas & Ann Amelia Pearson |
| C | PLAYLE | OW (OSCAR WILLIAM) | | GRENADIER GUARDS | | Parents William Thomas & Ann Amelia Pearson |
| C | PRECIOUS | C (Charles J) | | NORFOLK REGT. | | Parents Walter(of Kenton Lodge) & Mary Ann (of Ashill) |
| C | REEVE | G(George) | | NORFOLK REGT. | | Born Shipdham 1894Parents William & Sophia (Reynolds) |
| T&W | ROBINSON | Samuel Henry | Private | | | |
| C | ROSE | H (Horace) | | ESSEX REGT. | | Parents Samuel & Frances (Jolly Farmers) |
| C | ROSE | R (Reginald Frank) | | RGA | | Parents Samuel & Frances (Jolly Farmers) |
| C | RUFFLES | W (William) | | BORDER REGT. | | Father of Roy (below) |
| C | RUFFLES | R (Roy) | | NORFOLK REGT. | | Son of William (above) & Elizabeth |
| C | RUFFLES | G (George) | Private | BEDFORDSHIRE REGT. | | |
| C | SAGE | F (Frederick F) | | NORFOLK REGT. | | b. 1900 Croxton.Parents Thomas & Frances |
| T&W | SAUNDERS | Leonard | | | | Parents John & Elizabeth |
| CWM | SMITH | WH (Walter Harry) | 84934 | RE | | b.1883 Watton |
| T&W | SMITH | W (William) | | | | (same as above ?) |
| C | SUSSAMS | E (Ernest) | | NORFOLK REGT. | | Also known as (see) EFM BackParents James & Sophia (Back) |
| C | SUSSAMS | A (Arthur George) | | NORFOLK REGT. | | Parents James & Sophia (Back) |
| C | SUSSAMS | C (Charles George) | | CANADIANS | | b.1893 (Parents William & Harriet Linstead?) |
| C | SUTTON | B (Bertie) | | NORFOLK REGT. | | Parents Josiah & Ellen Maria (Buckenham) |
| CWM | SUTTON | S (Sidney) | | SUSSEX REGT. | | Parents Josiah & Ellen Maria (Buckenham) |
| C | TAYLOR | H (Horace Herbert) | | RFA | | Parents Henry & Susan (Scoulton) |
| C | TAYLOR | R | | MIDDLESEX REGT. | | |
| C | TAYLOR | C | | NORFOLK REGT. | | |
| CWM | TOLMAN | ROBERT JAMESOr Richard John | | NORTH STAFFORDSHIRE REGT. | | |
| C | WARMAN | L ( Leonard Arnold) | | RFA | | c1889Parents William & Frances |
| C | WATSON | I (Isaac)? | | BORDER REGT. | | Parents Frederick & Harriet |
| CWM | WATSON | F (Frederick W) | | NORFOLK REGT. | | Parents Frederick & Harriet |
| C | WILLIAMS | H (William Henry?) | | ROYAL MARINE LI | | Born Thetford 1875 |
| CWM | WILLIAMSON | WR (William) | Sgt. | NORFOLK REGT. | | b.1886 Parents William George & Clara Carter (Cater?) |
| C | WILLIAMSON | G (George) | | NORFOLK REGT. | | b.1893 Parents William George & Clara Carter (Cater?) |
| C | WILLIAMSON | FJ (Frederick John) | 11469328322 | MGCNORFOLK REGT. | | b. 1899 Parents William George & Clara Carter (Cater?) |
| C | WOODROW | F (Frederick) | | RFA | | Grocer Carbrooke Stores 1911 |
| C | WYER | AW (Albert William) | | ROYAL WEST KENT REGT. | | Parents William & Sarah Ann (Balls) |
| CWM/C | WYER | H (Herbert) | L/Sgt 5381 | COLDSTREAM GUARDS | | Parents John & Amelia(Platfoot) |
| C | WYER | A (Arthur) | | CANADIANS 181st Overseas Battalion C.E.F | | Parents John & Amelia(Platfoot)born 1 June 1891 Carbrooke. enlisted 1916 served in 181st Overseas Battalion C.E.F. was living in Napinka, Manitoba, Canada when he enlisted. |
CARBROOKE REMEMBERS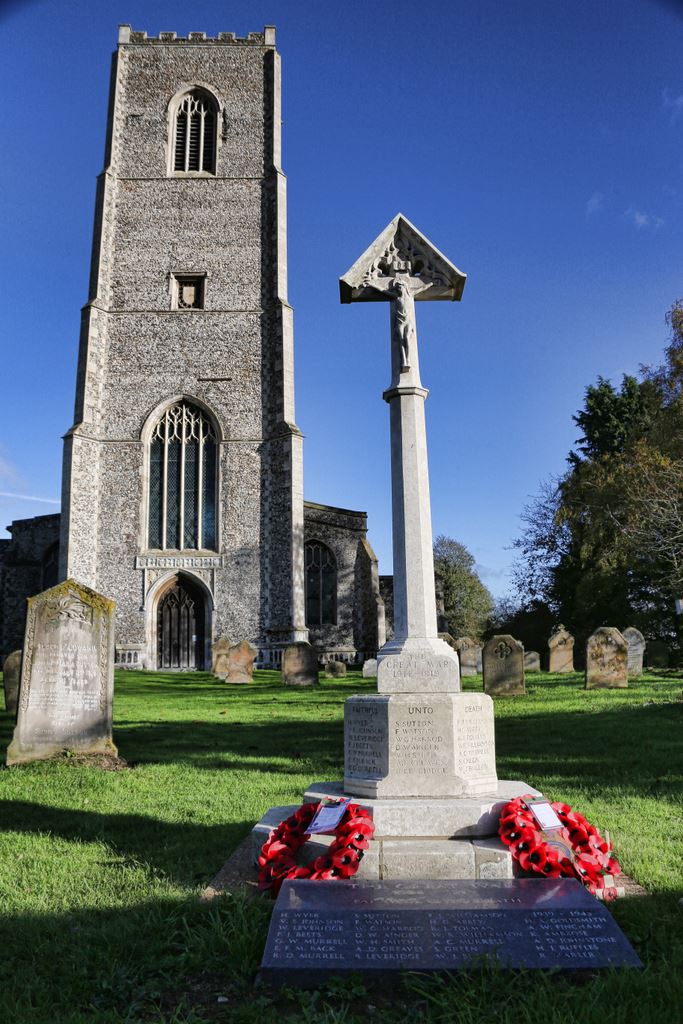 Virtually every village in the country has a war memorial, as those left behind needed a symbol, to remember and offer respect to all those died. The vast majority of those who died, were not buried 'at home', and it would be highly unlikely that relatives, at the time, or soon after, would have been able to visit a grave, if indeed there was one.
Carbrooke War Memorial lists 21 men, as having lost their lives, with 17 different surnames mentioned, therefore a number of those who died must have been closely related to each other. It is most likely that in such a close knit society many of the men mentioned were in fact related to each other in some way.
As the male population of Carbrooke in 1911 was 286, we could say we lost about 7% of our menfolk.
The War memorial was installed into the Churchyard around 1922, but from the end of the war discussions were recorded in the Church PCC minutes as to the form, a fitting tribute to those who not only fought and died, but also to those who returned, should be. This discussion appears to have gone on until around 1930, when at last this memorial had been commissioned and installed into the church, paid for by donations.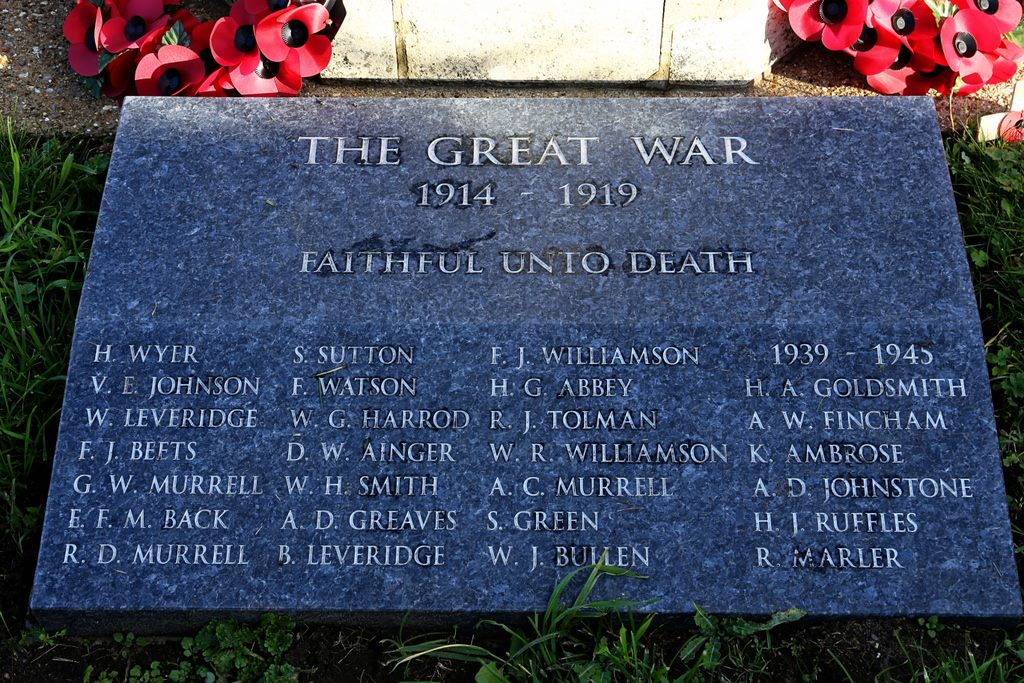 On closer inspection, it has been found that a number of these men although they had ties to Carbrooke, were not necessarily resident here before the war, and some of these men had only tenuous links with the village, but those erecting the monument wanted to pay respect to, and ensure that all related to Carbrooke were remembered. Two further names were added in 2013 when the War memorial was renovated, as new references were found.
ROLL OF HONOUR.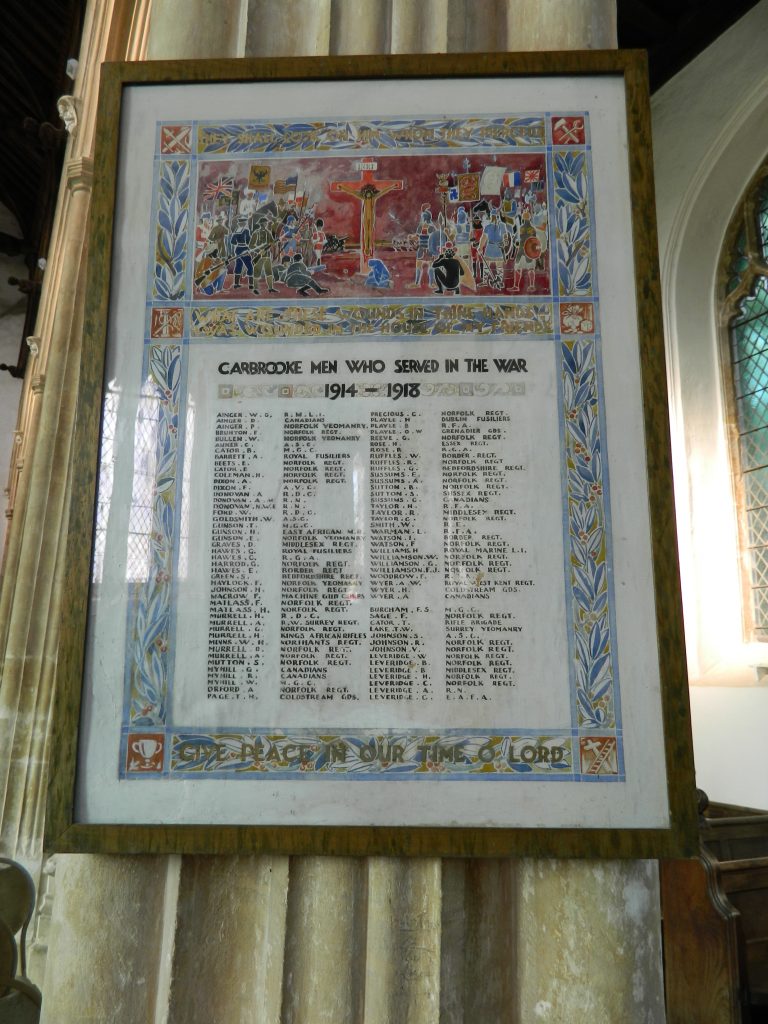 The roll lists 89 men from Carbrooke who served in the war, and was instituted by a Vicar who had not been in Carbrooke during the war. So the names were given by the memory of those remaining, some of which can be found to have errors. It gives a good idea as to how many men were actually involved from Carbrooke, but is still is not completely accurate as it was 'ties' to Carbrooke that were recorded, nonetheless a large percentage of Carbrooke males, fought in WW1 some of whom died. Particular families appear to have had a greater death toll than others.
From Carbrooke PCC Minutes.
24th October1921: The Vicar stated that 35/- for a Church Memorial Roll of all who had joined the army & navy during the Great War. The Council (PCC) decided that a notice be put into the Magazine to the effect that a fund had been left open for any that would care to contribute, and that a better roll might be made, according to the amount received.
At a PCC meeting on May 4 1925: It was suggested a permanent record of those who served in the war be created. It was ascertained there was £1.15.0 in hand. Mr TH Page kindly offered to do the inscription of the roll thereby saving a very great expense. Mr W Murrell suggested Mr Page should complete the Record (frame etc.), at the expense of the fund.
Mr TH Page is probably Mr. Thomas Herbert Page who fought during the war, but could it be his father also Thomas. Mr W Murrell, lost one son, and had the other away fighting.
The Rev. Douglas will make search for the list of names, thought to be in existence, and to the Rev Godfrey if necessary. In the case of insufficient information, it was agreed to consult the donors with regard to the disposal of the money.
Rev.Godfrey was Vicar of Carbrooke during the war. Rev. Douglas took over 1922-25, and then Rev. Chambers became Vicar from 1925, so there was quite an upheaval in the Church system for our parishioners to come to terms with at this difficult time too. As Vicars were most likely the moving force for village activities, these disruptions must have affected ongoing discussions.
Oct 12 1925: War Service list received by the Vicar (Rev. Douglas?) from Mr Godfrey. The names to be published that it may be ascertained to be complete and additions made if necessary.
March 16 1929: discussed that Roll of Honour to be unveiled Easter Sunday afternoon at a United Service with Carbrooke Chapel. (NB; fell between 16 March and 23 April).
July 16 1929: Roll of Honour , it was proposed by Mr Smith, and seconded by Mr Bond that the 30 shillings (anonymously given towards a Roll of Honour for Carbrooke Church), should be given to Mr Moray-Smith as he had not received recognition for the one he had recently painted, which hangs in the church.
Another interesting feature of this memorial is that it is obviously in the style of artwork elsewhere in Carbrooke church produced by artist friends' (Mr and Mrs Moray Smith ) of 'Father George, the well- loved but controversial 'Red Vicar' of Carbrooke, and includes several Socialist and even Communist references.
It wasn't until we started researching effects of WW1 on the village I realised the importance of this Roll of Honour.
Only initials have been used which makes it difficult to definitively identify each of the men, especially as Carbrooke has common surnames, and there were a number of men with the same initial and surname, some were known by a nickname, or another of their Christian names.
No ranks were recorded to display each man's equality before God. The initials of the company they served, were included, although some of them served in more than one. A number of names have been added at the end of the list and out of alphabetical order.
We can imagine that other families would have left the village, some people would have died, it is therefore not surprising that names may have been forgotten and some were added later. It is also noteworthy that the discussions were taking place in and organised by the Anglican PCC, many of those who fought would have been from the Methodist church, they too are mentioned, but this may have led to discrepancies.
Using 'Ancestry', the 1911 census, electoral roll and Baptism records, it has been possible to identify most of the men involved, but it appears that some of them were relations of people living in Carbrooke or had perhaps moved away years previously. Others mentioned are men living in Carbrooke at the time, but whose families appear to have little connection with the village.
The 89 listed, have been put into a family tree programme, and by 'searching' all of the relationships in it, so far over 1300 people have been identified as related (not all alive by WW1)! Therefore, there cannot have been a family in Carbrooke, that did not have a connection in some way to a soldier, and in a number of cases, to several.
LORD & MASTER
Having studied the 1911 census, it could be claimed that the 'Master' of Carbrooke Hall, Alexander Donovan encouraged many of his workers into war, and it can be seen that many of his staff, went off to fight. It must be added though, that amongst them were his two sons, and probably himself, all involved in Naval activities. (They all three, returned). It appears not to have been a hereditary 'seat' though. Alexander Donovan was living in Tottington in 1901 with his family. His death was registered at 'Forehoe' in 1922. In both 1901 & 1911 census, he was not described as a farmer, and so was probably only overseeing the estate.
An interesting quote, from 'Spring Sowing' by Michael Home writing of Breckland life at the time of WW1.

1911 Census Carbrooke Hall
| | | | | | | | | |
| --- | --- | --- | --- | --- | --- | --- | --- | --- |
| | | ALEXANDER | DONOVAN | 51 | M | HEAD | PRIVATE MEANS | HOVE SUSSEX |
| | | LEILA ETHEL | DONOVAN | 48 | F | WIFE | | GUERNSEY |
| | | MINNIE LETICIA | MUTTON | 27 | F | HOUSE MAID | HOUSEMAID | WATTON NORFOLK |
| | | ETHEL MARIA | MILLS | 23 | F | SERVANT | COOK | SCOULTON NORFOLK |
| | | SIDNEY | LEWIS | 18 | M | SERVANT | GARDENER | STIFFKEY NORFOLK |
| | | ARTHUR DANIEL | GRAVES | 23 | M | SERVANT | GROOM | CARBROOKE NORFOLK |
| | | FLORENCE SARAH | OFFICE | 30 | F | SERVANT | PARLOURMAID | CARBROOKE NORFOLK |
| | | GERTRUDE HILDA | BROWN | 18 | F | SERVANT | HOUSEMAID | WOODRISING NORFOLK |
Alexander and Esme sons of the above Alexander were by 1911 already serving in the Navy. Arthur Daniel Graves (above) was one of the war dead mentioned on Carbrooke war memorial,
(T&W) 1917 September 29th Carbrooke – death of Private Arthur Greaves, previously missing.
Between 1911 and his death in 1917 Arthur married Minnie Letitia Mutton (above), her brother, Samuel (born in Merton) was also serving in the army by 1911. She did however marry again in 1918.
Following the 1911 census further, most of the surrounding households with farm workers, contained those who later went to war.
It wasn't just the gentry who had more than one generation serving though, as we see in the Ruffles family
August 4th ? Carbrooke News – Private Roy Ruffles, son of Mr and Mrs William Ruffles has been awarded the Military Medal in France for carrying messages under shell fire. He was 19 last December and enlisted when he was only 17. His father is also serving and has been in France for the last two years, being now at home on a short leave.
THE CHURCH, (REVEREND ALFRED ROBERT GODFREY SERVES IN INDIA).
The PCC was new (having formed in 1913) but records for the time make few references to the war.
On December 7th 1914: The PCC agreed to send chocolates & tobacco as Christmas gifts to the men from this Parish on active service.
27th September 1915: Special collections agreed to on behalf of the Fund for Christmas Gifts for our soldiers and Sailors.
14 March 1916: Collection of eggs to be bought to school weekly by the children for wounded soldiers.
29 May 1916: Garden Fete and 'Sale of Work' to be arranged for 27th July to raise money for St Dunstan's Hospital for Blind Soldiers.
3 May 1917: Mrs Playle offered to send Parish Magazines to the troops abroad. The vicar then spoke of his absence from the Parish shortly, with a very interesting speech. (Dr Kirby & Rev'd Roscoe to undertake services whilst Vicar away).
Our Vicar, Rev'd. Alfred Robert Godfrey, went to Northern India during 1917 to assist in the YMCA, an organisation offering rest, relaxation and catering to the troops. Yet this is only mentioned in passing in the PCC minutes, and unless we had found references to it in newspaper searches, would have been missed. It was not stated why he would be away from the Parish in the minutes. It has been suggested that such things were not written down, to prevent them being captured by the Germans in the event of invasion, although the 'Thetford & Watton' newspaper has no such qualms.
From 'Thetford & Watton' Newspaper 1917
"Revd Godfrey left for work in connection with an army hut amongst the troops in India. He is expected to be away for 12 months".
"There is news of the vicar's safe arrival in India near the North West Frontier. He has taken charge of one of the bungalows of the Indian National Council of the YMCA".
Further PCC Minutes:
15 October 1918: Christmas Gifts for Soldiers (War Memorial to be discussed at next meeting).
22nd April 1919: Church Memorial Roll/ Parish Memorial Cross for the taken, was discussed.
3rd June 1919: In view of Mr W Murrells son Reginald having joined the army, the question of appointing a server for the church services was raised, but Mr Murrell felt that he would be able to discharge his duties specified in the form of agreement.
October 19 1924: Vicar proposed the annual commemoration service be observed on 9 November when roll of honour will be read over at 11 o'clock (Holy Eucharist) and also at Evensong. A two minute silence will be held at 11 o'clock after the 1st hymn.
BUSINESS AS USUAL
However, despite extensive research, it has been difficult to find much evidence in Carbrooke records, that the war actually took place!
Did life generally go on as usual, or was being at war so normal at the time, it wasn't worth commenting on, or perhaps it was not considered patriotic to mention it.
From T&W 1916: December 9th Nathaniel Tufts, butcher was charged under 'The Defence of the Realm' Act for allowing a fire to be in a field in his occupation at Carbrooke on October 31st. He pleaded guilty, saying that chaff had been ignited at threshing operations during the day. He thought the fire was out. He was fined 5 shillings.
The school log has no references to the war.
At Carbrooke Foundry, which we would expect to have made items for the war effort, no records have been discovered relating to WW1.
Grocer, Frederick Woodrow of Carbrooke Stores was serving at the front, as were two sons of Samuel Rose who had been Publican & Coalman at the 'Jolly Farmers' In 1911, (this pub appears to have closed in 1912).
(T&W) Late 1916 "Also Official information has been received that Horace Rose and Arthur Office have been wounded in action. Bertie Sutton, also wounded has returned home for the first time in 2 years".
Bertie's brother, Sidney, had been killed earlier in the year
October 28th Private Sidney Sutton, aged 19 was killed at the Somme front. The son of Josiah Sutton.
Also sons of William and Clara Murrell who ran the Post Office.
(T&W) 1916 September 23rd: The death in action is reported of Private Gilbert William Murrell of the village Post Office. He was in the Cyclists Battalion, but on going out to France about 6 weeks since. He had spent 13 days in the trenches and was due to come out on the very night he was killed. He had not quite attained his 23rd birthday.
October 14th (Watton news). Private Dennis Murrell, son of Mr and Mrs Robert Murrell was killed in action on September 25th . He had only just turned 19. He was formerly of the Norfolk cyclists. (another Murrell, cousin of above).
1916 May 6th Carbrooke – an organ recital by Sapper Tipper of the Royal Engineers. A collection of 18/3d was made for the fund supporting Pte. Charles Precious, a PoW in Bulgaria.
1918 February 2nd Watton and District. List of PoWs in Norfolk Reg. Cpl CR Eldred (Lt. Cressingham, Lance Cpl E Pye (Saham Toney), Ptes C Hensley (Ovington), AF Ward, E Disdle, J Ward (all Saham Toney), CJ Precious (Carbrooke), A Sandcraft? (Thompson), RA Warren, F Ellis (Hingham), WR Green (Caston) WV Clarke (Lt. Cressingham, G Sutton (Gt. Cressingham).
Sapper Tipper is not mentioned at all in Carbrooke records, so perhaps he was a friend of Pte Precious. In 1911 Charles Precious' father was a Shepherd in Carbrooke having been born at Hempton Lodge, his mother from Ashill, with Charles born at Houghton on the Hill. Charles died in Wayland in 1943 having married in 1929.
1916 June 5th Photograph of Private H Taylor, 2nd Battalion of Eccles (late of Carbrooke) wounded at Basra.
1916 November 4th ; Relatives of Ernest FM Buck have received official information that he was killed in action on September 4th . He had been in France a few months.
Tracing Ernest Fergus Melbourne Buck proved something of a problem, despite his unusual name. It appears he was born before his parent's marriage, to Sophia Buck, his father being William Sussams, a widower and Carbrooke Shepherd.
1917 January 27th Carbrooke – death of Private Harrod at Felixstowe after an eye operation.
The Harrod family were not native to Carbrooke, 2 daughters were baptised in Carbrooke 1893 and 1895, the 1911 census shows Private William George Harrod as being born in Carbrooke, and he is mentioned on the War Memorial. John Crowfoot Harrod was a Shepherd born in Great Cressingham, and from the places of birth of his children, it is clear he moved around this area due to work. Amazingly, by 1911, John and wife Elizabeth had 11 children (2 boys, 9 girls), all of whom survived beyond childhood. It appears that some of the daughters married locally, and as well as losing a brother to war, were also affected by having husbands at the front. Mabel Harrod, probably a daughter of this family married Christopher William Auker who served in the Army Service Corps. 1908. William died in 1923 at the relatively young age of 40 and was buried in Carbrooke Churchyard. (Perhaps, as a result of war wounds). They had no children.
1917 April 7th Carbrooke – Dennis Ainger killed in action in France on March 1st. 'He was endeavouring to save a wounded officer during a raid.'
1917 May 26th Driver William Smith of Carbrooke killed in France by a shell.
It appears this is an error on 'Thetford & Watton' part, It is most likely this is Walter Harry Smith, bootmaker, born in Watton, and living in Carbrooke 1911.
1917 June 30th News has been received by his relatives that Private Samuel Henry Robinson, formerly of Carbrooke is reported officially missing since September 3rd last year.
Mr and Mrs Myhill of Caudell Green Farm have received news that their son Willie who was gassed and it was feared that he has lost his eyesight, is progressing favourably.
Mr Alfred Myhill, was a farmer at Caudell Springs, Carbrooke, born Rollesby, his wife Martha Richardson from Ovington. They had three sons serving, Reginald, George and Willie, two injured, but survived. Both Reginald and George served with the 'Canadians', and have been found crossing the Atlantic together, on several occasions, both as 'Clerks'. In 1915 they both travelled from Liverpool to New York on the 'Lusitania'. The sinking of this ship in 1917, bought the Americans into the war.
The parents of Albert Dixon are relieved by a letter telling of his well-being, dated May 25th. The letter had been in water at some time during its transit.
Sons of local farmers Gunson and Playle too, so as village life continued, the population would certainly be aware of those away at war, even if their own families were not involved.
Harry Gunson, son of Mr and Mrs William Gunson of The Oaklands is acting as interpreter with the forces in German East Africa.
1917 July 28th Carbrooke News – Harry Gunson, son of Mr and Mrs William Gunson of Oaklands Farm has been promoted to Lieutenant. He is now a transport officer serving in East Africa.
December 16th Pte William Playle of the Grenadier Guards, son of Mr and Mrs Playle of Fen Farm is wounded in a hospital in France, having served as a sniper on the Somme front for several weeks.
December 30th Oscar William Playle has been badly wounded by a bomb, and is in hospital in Cheltenham.
1917 November 3rd – Bertie Leveridge killed in action October 11th. He first went to France in July 1916, was invalided home in January on an attack of pneumonia, In June he went to the Western Front for a second time.
November 10th Carbrooke – Photograph of Lance Corporal BE Leveridge.
Also Leonard Saunders, eldest son of the late John Saunders 'has fallen in the war.' He leaves a wife and three little children.'
This is one of the cases where relatives wish to remember their losses. Leonard's family lived at Broadmoor Farm, Carbrooke, and did so well into 20th Century, with ties to Carbrooke until 1990's. Leonard was born in Shipdham, in 1901 & 1911 living in Northamptonshire. His neice became Carbrooke School mistress for many years, without marrying.
December 8th Carbrooke – Private Reginald Myhill, eldest son of Mr and Mrs A Myhill has been wounded in the head by shrapnel, and is now in hospital at Taplow. Privates Alan Murrill and George Ruffles are now in hospital in France. Private Willie Minns, son of Herbert Minns of the Mill has received a bullet wound in the shoulder in Palestine.
December 30th There is official information that Frederick W Watson is reported missing (died November 13th 1916).
December 1917, was not a good month for Carbrooke casualties, but at least some of the families knew their relations were alive and being treated in hospital.
1918 June 15th Carbrooke. Sgt. William Williamson died of wounds in France
CARBROOKE FAMILIES
For centuries, Carbrooke retained its local families and unusual surnames. These have been appearing in Parish records and documents since our records began, and whilst some of the names may be local to the Wayland area, we have families who have been resident in Carbrooke for many years.
Most of these surnames turn up on our war memorial and tribute to those who served during the war, which hangs in the church.
Murrell, Leveridge, Sussams, Minns, Ainger, Wyer, Tolman, and Haylock are Carbrooke names. Johnson is a more common surname generally but is also a name which has been in Carbrooke for centuries. Now, many of the families holding these names have gone from our village, – family names which after generations in the same village, within a century of WW1, have disappeared from parish records.
Carbrooke Surnames
| | | | | | | |
| --- | --- | --- | --- | --- | --- | --- |
| Census Yr. | Total Carbrooke Population | Murrell | Leveridge | Wyer | Ainger | Sussams |
| 1841 | 807 | 14 | 13 | 22 | 21 | 7 |
| 1851 | 750 | 20 | 16 | 35 | 14 | 13 |
| 1861 | 502? | 7 | 19 | 31 | 11 | 10 |
| 1871 | 705 | 9 | 18 | 40 | 16 | 23 |
| 1881 | | | | | | |
| 1891 | 534 | 8 | 33 | 26 | 13 | 13 |
| 1901 | 552 | 17 | 29 | 26 | 11 | 16 |
| 1911 | 545 | 18 | 19 | 19 | 7 | 16 |
Murrells: There were Murrells in Carbrooke, when Carbrooke Church records began, William Murrell had his children baptised during the 1560's and 70's.
Although time has limited research further on the other (local and unusual) surnames mentioned above, back beyond 1812, all of these families (except the Sussams who were just arriving in Carbrooke at that time), were well established. Yet now, it appears, (apart from Sussams), we no longer have any of these names left in the village.
The village population was on the decline, heading for a low in 1931 of 466. Of course there are many reasons why a name should disappear, families move about, often following each other, as they become established in another area. It may be that they joined the Methodist church, (or no church), and were no longer recorded at the Parish church. Some families had more girls than boys, and so the ancestry may continue, but the name change. Living conditions were just beginning to improve, and the birth rate was starting to fall.
Reginald Murrell (he served during WW1, married, but had no children), died in 1990 the last with the Murrell surname in Carbrooke
Shirley Leveridge was the last Leveridge to be baptised in the Parish Church in 1937.
Alice, Dorothy & Violet Wyer were last Wyers baptised in 1913.
Mildred was the last Ainger baptised in 1903.
'A PATRIOTIC CARBROOKE FAMILY' THE LEVERIDGE FAMILY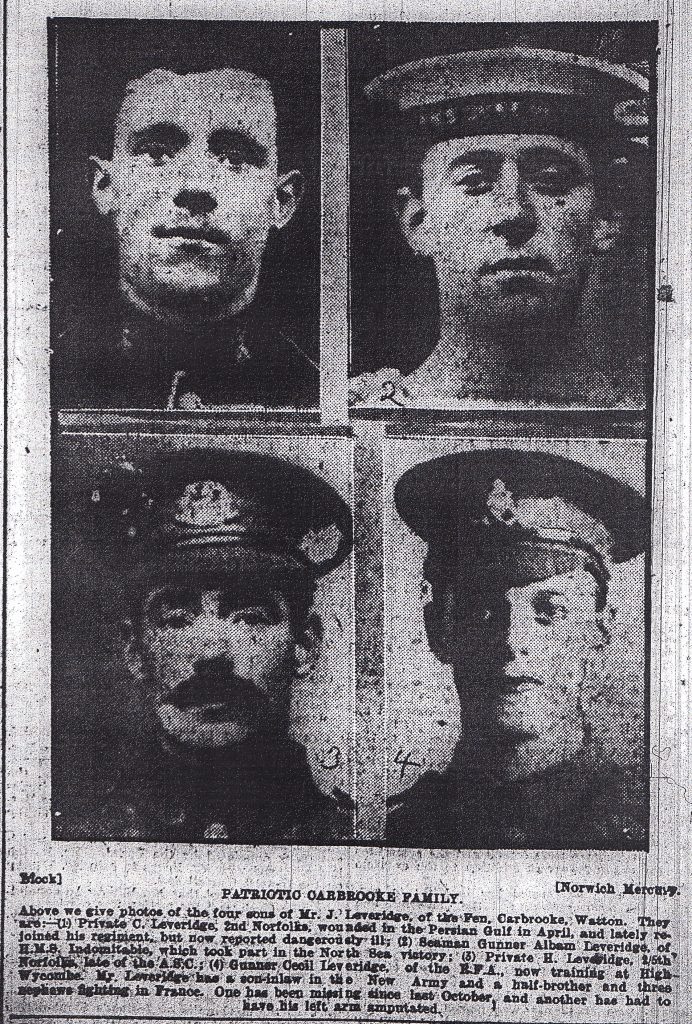 It cannot be said the Leveridge family did not take their patriotic duty seriously for the war effort. John Leveridge and his wife Sarah (Wells), had 12 children, 4 boys and 8 girls. All 4 boys fought during WW1. Amazingly they all retuned home. John's step brother Albert William also fought, as well as 3 of his nephews. Another Leveridge family – Samuel and Charlotte (Pease), also had 12 children, 7 boys and 5 girls. Three of the boys Walter, Bertie and Basil, fought in WW1, Walter and Bertie were killed. Another son Thomas died in South Africa, although this may have been during the Boer War, as he is not mentioned on any village memorial to WW1.
The Leveridge family have been mentioned in Carbrooke Church Records at least since 1812, and probably much further back, one family were Thatchers, others, farm labourers.
Yet, in 1937, the last Leveridge (Shirley), was baptised in Carbrooke. By 1930s of the 2 families baptising children, 1 lived in Winburgh/Narburgh (sic), the other moved to Swaffham and then back to Carbrooke. It appears there are now no longer Leveridges in Carbrooke by name, although probably a number by ancestry.
The Leveridge 'war diary' from the 'Thetford & Watton' paper, made great propaganda.
May 22nd 1915 The Leveridge family of Carbrooke. Photograph of Walter Leveridge, killed at Basra on April 14th, aged 27 & had 9 years in the Army. His brother Tom had died of enteric fever in South Africa. Brother Bertie was serving with the 6th Batt. (cyclists) in North Norfolk. (Another brother Sam had offered himself but was sent home with ?
From 1916 all young men including cyclists had to serve abroad
May 29th 1916 A photograph of C. Leveridge, also of the 2nd Batt. wounded in action at Basra.
August 21st 1916 Photograph of 4 Leveridge sons of Carbrooke
Private C Leveridge had been wounded, then returned to his regiment, now dangerously ill
Seaman Gunner Albam Leveridge of HMS Indomitable which took part in the North Sea Victory
Private H Leveridge of the 2/5th Battalion, late of the ASC
Gunner Cecil Leveridge of the RFA now training at High Wycombe
Also a son-in-law in the New Army, a half-brother and 3 nephews fighting in France. One missing since last September, and another has had his left arm amputated.
1916 May 27th A tribute to the late Sergeant W. Leveridge – 'a young and promising NCO'. He was mentioned in dispatches.
MALE – FEMALE BALANCE.
As a child born in the sixties, (twenty years after WW2 and forty years after WW1) I was subconsciously aware that old ladies outnumbered old men, since considering this piece, I have wondered why this might be. As we are now well into the 2nd decade of the 21st century, very few of the old ladies from my childhood and youth are still alive. Although it is a recognised fact, that on the whole women outlive men by age, this would not account for the large number of single or widowed women during the second half of the 20th century.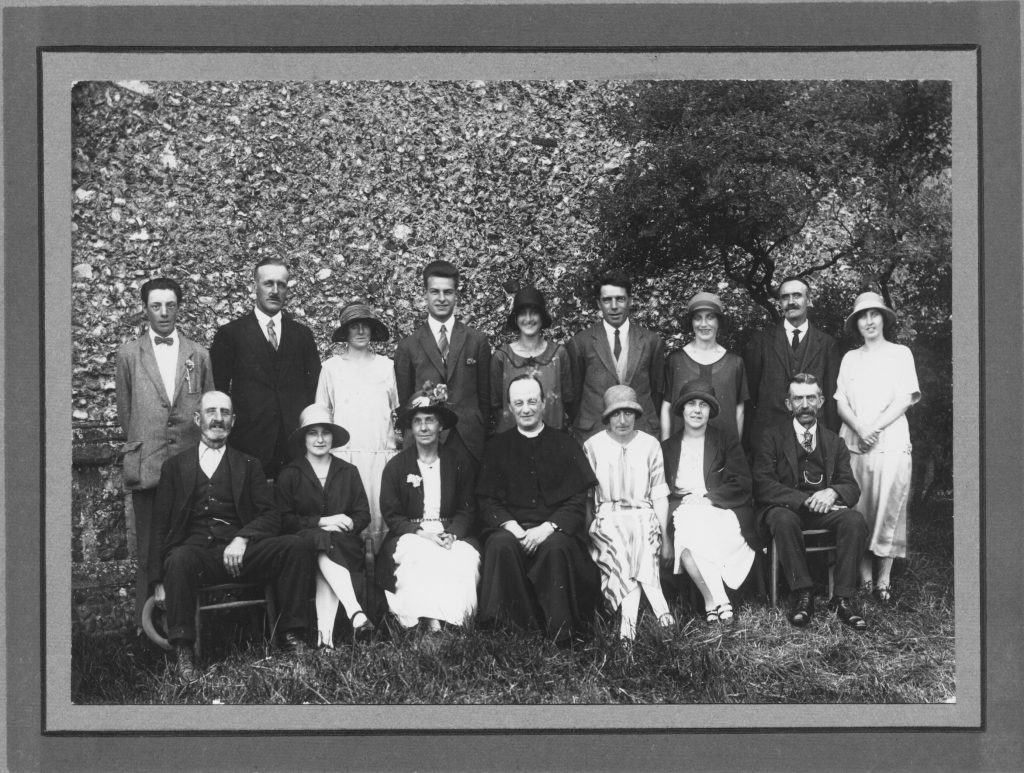 A photo of Rev. Douglas with the Church Choir c1925. A number of these men fought during the war, others had lost sons. Many of the young women, remained unmarried for the rest of their lives.
WOMEN IN GENERAL
These women had to face up to the fact that large numbers of two generations of their menfolk had been killed during war, and many of those who returned were physically or mentally maimed by the horrors they had experienced. A common theme in families that 'Grandad never spoke of the war,' was probably because the horrors could not be put into words, and those not involved could not understand, with many suffering from what we now call, post-traumatic-stress-disorder.
The women were faced with a shortage of marriageable-aged men. Many were unable to marry, others may have married older men or perhaps partners who were not suitable.
With a shortage of men, women also had to fill in, in society, and found they had to work, often taking up employment which would not previously been available to them. Women were increasingly employed in teaching and nursing, and they involved themselves in the community. It might be interesting to discover whether a larger than average number of women became nuns at this time.
Many children would have been bought up by single mothers, war widows, by mothers widowed by an older husband, or in unhappy families of un–matched parents. Can the subtle changes in society obvious by the end of 20th century, have their roots following the wide-scale loss of men from the population.
Of course others may have embraced the unimagined opportunities available to them.
WOMEN IN CARBROOKE.
In 1985, my husband and I newly married, arrived in Carbrooke. The church appeared to have a very uncertain future. The average weekly congregation was perhaps 10 with 50% over 70 years, and probably 30% over 80! Many of these were elderly unmarried women. We were taken under the wing of Norah Wace, and her friend Jessie Roberts. Norah was born in 1899, the second of four daughters to Leonard and Caroline Wace of 'Wood Farm' Carbrooke. This could well be one of the oldest buildings in Carbrooke. It was probably the original Carbrooke 'Manor Farm' at the time of Domesday.
It was obvious that Norah was very proud of her Carbrooke heritage. The Wace family were certainly in Carbrooke by 1841 as significant farmers
Jessie once told me that she believed Norah had had a sweetheart who had been killed during WW1. It appears she never had any further opportunity to marry, and that none of her sisters did either. Norah threw herself into community work, and was particularly involved within Carbrooke Church. She was Church warden for many years, and notes she made regarding church history, can be found amongst church documents. She was also responsible for arranging for the church records to be deposited at Norwich Records Office. Along with her good friend Jessie who arrived in the area after WW2, they became very involved in the Workers Education Association in Watton. Norah was also a member of Carbrooke WI.
Norah was obviously very keen to improve her village by her own work. The circumstances following WW1 certainly had a profound effect on her and her sisters.
On October 6th 1927. Leonard Wace put Wood Farm up for auction. Was this due to economic pressures, or because he only had daughters with no son to pass it on to. Perhaps he felt he was too old to continue farming. He died the following year aged 71. Whatever the reason, it must have been devastating to the Wace girls, to know that their family home was to be sold. Norah lived the rest of her life on Norwich Road, Watton, where she had a house built.
Follow this link to the Auction Catalogue for Wood Farm 1927
The individual stories of these women, were perhaps sad or unfortunate, they had been born at a time when the expectation of marriage and motherhood was high and added respectability to themselves. The war turned this upside down leaving them living at a time in British society when enormous changes were occurring, money was tight, unemployment was high. They had to find themselves a niche in society. Many of the women in Carbrooke made the best of the opportunity. They worked tirelessly in all aspects of their communities. We have a lot to thank them for.
Although, for example Carbrooke Church was at a low ebb by 1985, these women had kept the boat afloat, and although they didn't live to see it, a whole new expansion in Carbrooke was about to occur, the church has remained open, and the school Norah would have attended, on the brink of closure in 1985, is now bursting at the seams.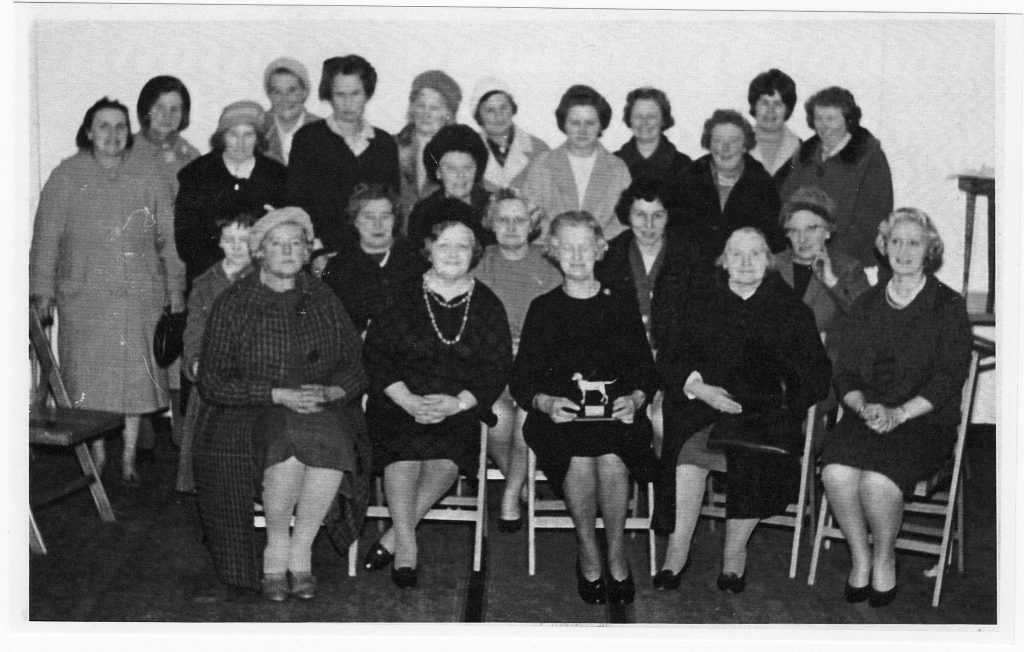 Carbrooke WI c1970. Raising money for 'Guide Dogs for the Blind' with Lady Margaret Barry.
A particular effect of WW1 was the formation of the Womens Institute, originally founded to help women during the war to manage their homes and families whilst their menfolk were away, labour and money were in short supply, and with the introduction of rationing in some places.
Following the war, the need for an organisation such as the WI would have been even more necessary, as war widows struggled to come to terms with life alone, trying to raise a family and with little financial support, the WI offered friends in a similar position to turn to, in times of trouble. It may also have given single women a place to socialise, and helped others learn new skills. Most areas had WI's, including Carbrooke. Although no records appear to remain, it was probably at its height during 1950s-70's, as by then, the single women of Carbrooke had probably become more confident, and found their place in society.
Carbrooke WI, fund-raised in the village, providing the bench and wild cherry trees outside the village hall, and bus shelter. They also supported the 'Guide Dogs for the Blind' organisation.
TO SUM UP
There can be little doubt that WW1 had major long term effects on British life, the male-female balance, changes in the structure of society, changes in industry and agriculture, how we view each other – rich and poor. Mental health issues and living with disability, although swept under the carpet at the time, must have had a bearing on many, as they attempted to come to terms with what they had witnessed, and which in turn subconsciously affected families and friends too.
As local men realised there was a big world beyond their villages, they broke away from their servile agricultural heritage to discover new places and opportunities. With so many men dead, women had to take over male roles in society and workplaces, becoming more independent. With fewer men to marry, did being an unmarried mother become more acceptable in society? Industrial advances to improve the war effort were put into everyday life; leading to farm and domestic mechanisation. The agricultural depression led onto the sale or amalgamation of many farms. Many children grew up without a father figure in their lives. Returning soldiers may have spent the rest of their lives living with the mental and physical effects of war. In Carbrooke we have a 'disabled soldier' bringing his children for Baptism in 1919 and 1925, and following the war, the occupations of fathers changed too, they were no longer mainly farm labourers.
Did the horrors of WW1 trigger the disillusionment with organised religion, starting a decline in traditional village worship and village churches?
With little written evidence in our villages, we could assume that WW1 had little effect on our area, or was the effect immense, yet kept private. It may be that the effects were not felt at first but have dripped through time, to create the society we have today.
Page last Updated 01.04.2022